Fairy Tail Part 2
Review Date:
Reviewed by: Eeeper
Released by: Manga Entertainment UK
Age Rating: 12
Region: 2 - UK
Volume 2 of 4
Length: 300 minutes
Subtitles: English
Audio: English Dolby Digital 5.1
Japanese 2.0 Stereo
Summary
Across the Fiore kingdom, wizards join guilds and make their pay by filling magical needs - but one guild has a reputation as the roughest, rowdiest, most dangerous of all: Fairy Tail!

In the midst of a mission to break the curse over Galuna Island, Natsu and the gang face a band of deranged mages trying to resurrect the monstrous demon Deliora. Gray's determined to put the freeze on the sinister plan in a frigid battle with a rival from his past - even if it takes his own life!

Back in Magnolia, the city becomes a warzone after sorcerers known as Element 4 destroy Fairy Tail headquarters and kidnap their beloved rookie, Lucy. A bone-crunching, skin-charring fight between fire and iron erupts when Natsu squares off against another Dragon Slayer wizard!
Review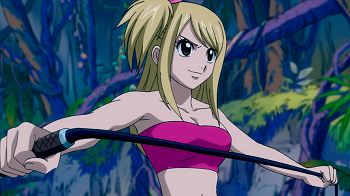 Listening to my Star Trek VI soundtrack, I'm starting to understand why I like Fairy Tail. Like Fairy Tail, at first I didn't understand what people on Star Trek (the original series, which was the first one I saw) were talking about. When they explained about the warp drive or phasers, I didn't grasp some of it. Also, the characters when we first met them, had been together for a while, having a familiarity that initially locked you out. But over time, you began to know more about them and started to like and understand them. By the time Star Trek VI came out, I was ten and had lived with the original crew for a few years. So when they signed off in the sixth film, I felt I had been on the journey with them. With Fairy Tail, it's much the same. I don't know everything about a character or characters. They also spout spells and words that I don't have a clue about but it really doesn't matter. The fun and thrills to be had here is more important.




So we are on the Galuna Island arc to start off with. When last we were here, the team (Natsu, Lucy, Happy and Gray) had discovered that Gray's childhood friend, Lyon, had transported a demon called Deliora to Galuna Island to use the moon's power (I dunno) to melt the ice surrounding the demon. Really, I could go into the nitty-gritty about who said what, Natsu punches this person, Lucy thrashes that person but the point of this arc is to show the trauma that Ice wizard Gray Fullbuster carries around because the last two times he encountered Deliora, it robbed him of his loved ones. The first time he couldn't do anything about it and the second time, he was the cause. But during the fight on Galuna, Gray discovers that age old lesson: sometimes the hardest thing a person can do is not just forgive others for their transgressions, but also to forgive yourself for your own. I watched as Gray finally learned why his mentor chose the path she was on and it was painful for him. It's interesting to see a character like Gray rapidly transform from a position of weakness (in his own mind) and, if only for a short while, take on the same task as someone he'd lost doing the same thing. But that's what surprising about Fairy Tail: it can be funny and bone-headed one minute and deadly serious the next. It's sometimes compared to Eiichiro Oda's mammoth hit One Piece, unfairly in my mind. One Piece is all go, all the time. It has its serious moments but Fairy Tail has more. Both share their creators wishes for people to have fun rather than be deadly serious, though.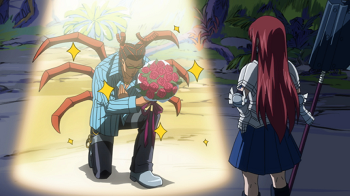 In many respects, Fairy Tail is the show I wish Full Metal Alchemist could have been for me. FMA, initially, was interesting with its notions of self sacrifice and love for family and friends. But despite me buying every volume of the original series, that's all there was to it for me. Edward feels guilty about Alphonse. The military they serve is doing unscrupulous things. Winry turns up. The boys experience the horror of war and also learn life lesson in each episode. Episode over. Rinse, lather, repeat, ad nauseum. Fairy Tail does the same kind of thing but by God, it doesn't lay it on so thick. Yes, there's brevity, horror, evil and laughter in this world. Just not all at once. Little by little, it's building its video and worldview. In this set of episodes they don't travel all that much after Galuna. Instead the show has opted for introspection. Few shows I watch these days do this. It makes Fairy Tail a cut above other shows.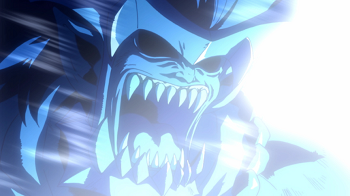 This set also contains the answers to how Happy came to Fairy Tail and Natsu, why Lucy ended up at the Guild and who the silver haired girl, who looks like Mira Jane, at the end of the show's latest closing credits is. Happy's story, Lucy's reasons and the mystery girl all come together in the final three episodes of the set. It's a mixture of laughter and the bitterest of tears. I honestly figured the girl out once I knew who she was but I had hard time smiling at one particular scene. Lord, it was brutal in its simplicity. When you get to that scene, you'll know what I'm talking about. This show keeps tricking me into thinking I know it but like Star Trek, it still can surprise and shock me.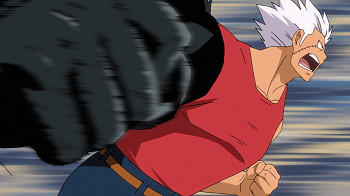 Extras wise, Manga ports the opening and closing clean animations, trailers and two commentary tracks; one with the ADR director (who continues Funimation's thing with ADR directors saying they "wrote the episode") and the voice of Gray which wretchedly degenerates into a music session that is best left on the stage at Otakon and another with the voices of Happy (Tia Ballard), Mira Jane (Monica Rial) and Erza (Colleen Clinkenbeard) and the ADR director. Which was infinitely better.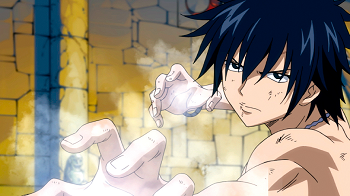 I think I may have been wrong about shounen fighting shows and manga. I always assumed it was people shouting at each other, gaining more and more powers, going on quests and taking fifteen episodes to throw a punch. Fairy Tail does do that a little, but it has a good heart beating in it so I think I was wrong to tar all shounen fighting stories with the one brush. It will never win awards for its animation but the show works best when it's not being flashy. I'm strapped for cash at the moment which is the only reason I haven't bought all the manga it's based on. I'm learning about the characters, loving the stories and enjoying the ride. You should too.


Rating: 9/10
Links
Affilate Links:
Buy from Amazon.com
Buy from Amazon.co.uk